Ignition Poker Bonus
About the Ignition Poker Bonus
the bonus will automatically be credited to your bonus account
the bonus is released as you earn points and credited to your account the next day
Ignition Poker has the 3rd easiest poker bonuses to clear
earn $1 of your bonus for every $3.33 paid in fee's
you have 60 days to clear your bonus
Best Ignition Poker Sign up Bonus
100% up to $1000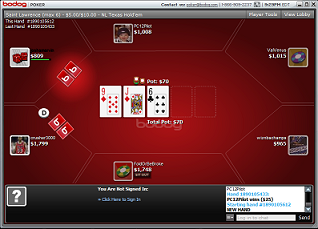 PLAY NOW!
---
---
USA Banking Options
Visa
MasterCard
American Express
Western Union
Money Gram
Clearing the Ignition Poker Bonus
Earn 10 Ignition poker points to release $1 of your bonus. Earn 3 poker points for every $1 of tournament fee's paid.
In ring games you earn points based on your level of play.
earn 1 Ignition poker point for every hand where the rake is at least $1
earn .5 poker points where the rake is $.50 - $.95
earn .25 poker points for where the rake is less than $.50
The above applies for the re-load bonus as well. Also earn 1 Ignition poker point for every 60 minutes spent playing at a table and you automatically earn 50 Ignition poker points just for signing up ($5 of your bonus).

Read the complete Ignition Poker Review